Drift Eliminator For EAC Cooling Tower
Delivery term:The date of payment from buyers deliver within days
Price:

Negotiable

minimum:

Total supply:

Delivery term:

The date of payment from buyers deliver within days

seat:

Beijing

Validity to:

Long-term effective

Last update:

2017-08-26 21:10

Browse the number:

112
Send an inquiries
Company Profile
Wuxi Xianglong Plastic Technology Co.,Ltd

By certification [File Integrity]
Contact:

xianglong(Mr.)

Email:

Telephone:

Phone:

Area:

Beijing

Address:

Jiangsu Provincial Highway 342, Yixing City, Stone Town Industrial Zone, China
Product details
Wuxi Xianglong Plastic Technology Co.,Ltd is one of the leading China drift eliminator for eac cooling tower manufacturers, welcome to wholesale cheap drift eliminator for eac cooling tower from our factory.
Quick Details
Condition: New, New

Cooling Type: Cross Flow

Material: PVC, PVC,PP

Place of Origin: Hebei, China (Mainland)

Brand Name: Sinta

Model Number: Sinta-d01

Dimension(L*W*H): 160mm,Width:45mm, 80(circular)*14.5mm*205mm

Certification: ISO9001, ISO9001

Warranty: 1year

After-sales Service Provided: No overseas service provided

Thickness: 31mm

Color: Black,yellow,red,white etc

Packaging: Wooden pallet,container or by clients'requirement

Application: Remove entrained particles from air steam efficiently

Applicable Temperature: 65°C~-35°C
Packaging & Delivery
| | |
| --- | --- |
| Packaging Details: | Drift eliminator be packed In bundle,wooden pallet or as your requests. |
| Delivery Detail: | Drift Eliminator be sent in 15 days after your payment arrived |
Drift Eliminator For EAC Cooling Tower,Marley Cooling Tower Drift Eliminator
Materials
All Brentwood Cellular Drift Eliminators are made from PVC material that meets CTI (Cooling Tower Institute) Standard 136 and are UV protected. These PVC compounds have outstanding resistance to weather exposure, and are nearly impervious to chemical degradation by alkalis and acids, grease, fats, oils, and biological attack. PVC has an excellent fire rating due to its self-extinguishing characteristics.
Marley Drift Eliminators Specification
Color: White,blue,gray,yellow,etc
Length: 80mm,160mm or240mm,320mm ect
Height:305mm
Width:145mm
Material: PVC
Density: 1.4g/cm3
Features and Benefits
•.High surface area (cell dimension of 1.50" [38mm]) provides maximum performance at minimum pressure drop.
•  Easy to assemble on-site, Brentwood Blade Drift Eliminators are a popular choice for international projects
• Shipping unassembled components vs. assembled modules can save significantly on freight costs).
• The upward flow path and discharge angle of 40-55° from horizontal (depending on installation angle) is specifically-designed for crossflow applications.
• Installed at the standard 10° from vertical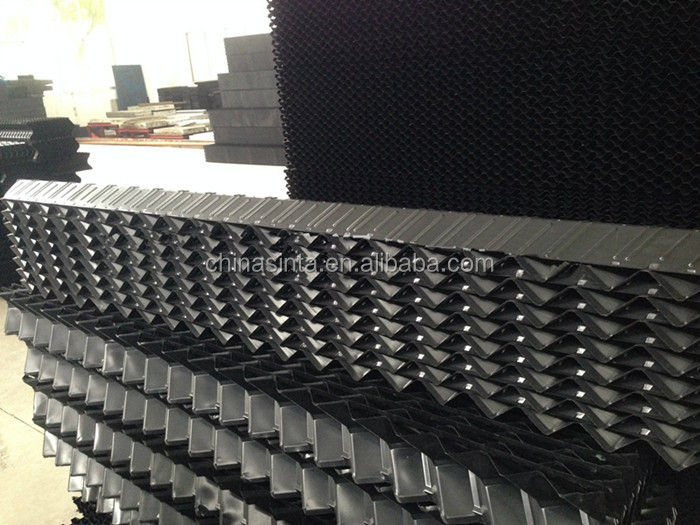 Drift Eliminators are comprised of two sets of uniquely interlaced monofilaments, each forming a V-shaped arrangement. This monofilament drift eliminator is fabricated from 16-mil (0.41 mm) or 37-mil (0.95 mm) diameter polypropylene monofilaments filled with carbon black. This material resists ultraviolet deterioration by sunlight.
Pluggage and fouling in the cooling tower fill or drift eliminator, irregular air flow patterns, or damaged/chipped drift eliminator blades can cause carry-over from the tower.
Drift Eliminators can be installed right over existing drift eliminators to collect the drift carry-over regardless of the cause.  Drift Eliminator can often be installed while the tower is in continuous operation preventing long expensive outages often associated with correcting the carry-over.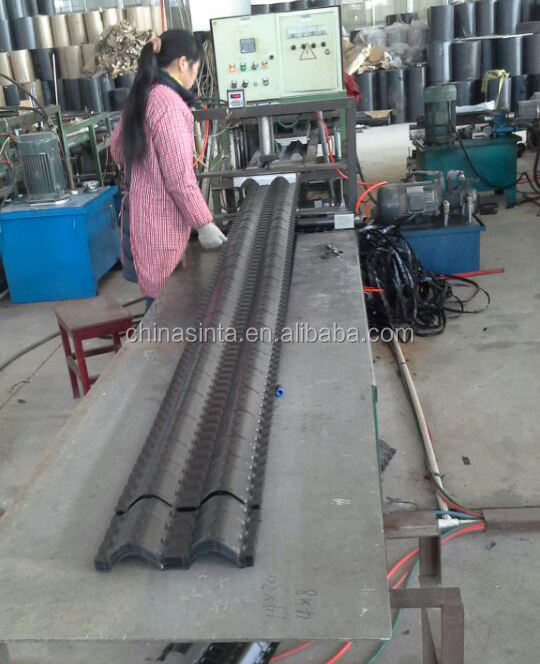 Product Display